Solution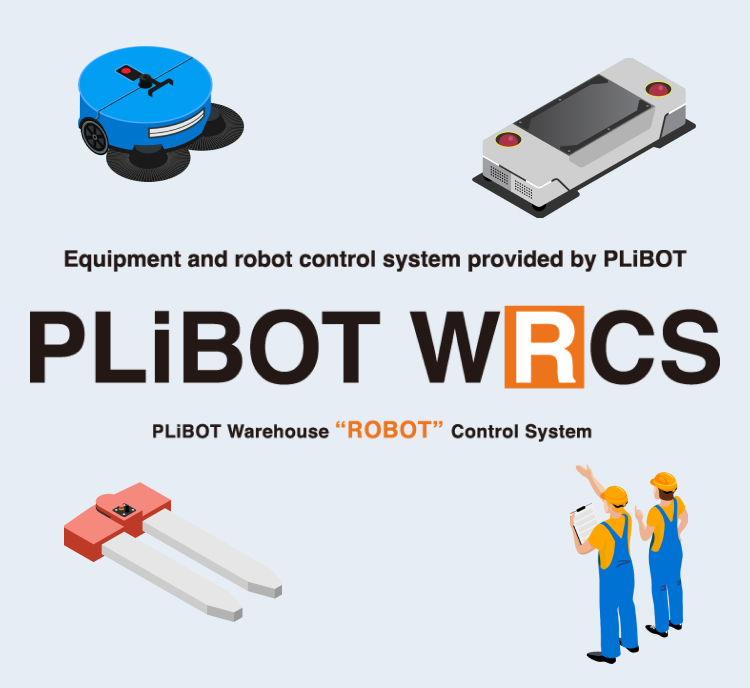 All-in-one control and management
PLiBOT WRCS "Warehouse Robot Control System" is a true cross-platform solution. We can control and manage unmanned guided vehicles, automatic forklifts, and mobile robots in cooperation with your industrial machinery and equipment regardless of vehicle type, brand, or motion characteristics.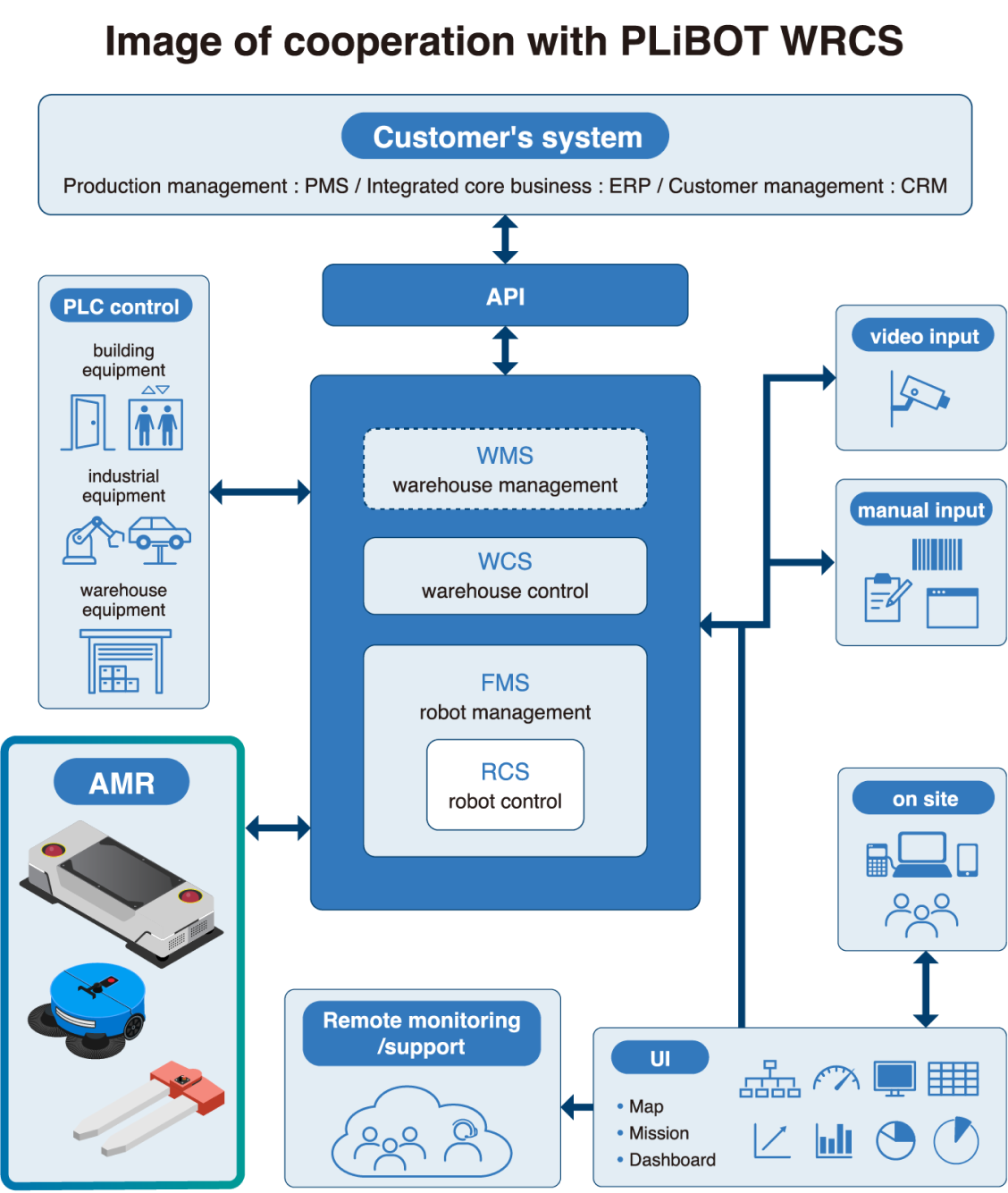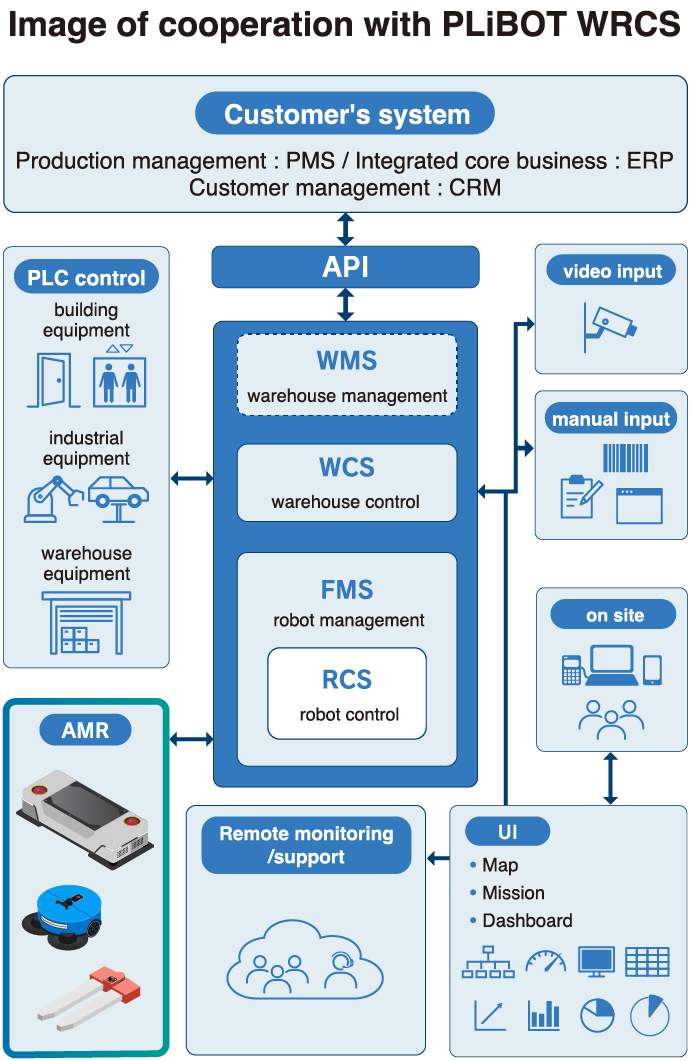 Linked control of AMR and equipment
By specifying the source and destination schedules for materials in the system, the system will coordinate and control equipment such as AMRs and elevators to automatically transport materials.
The AMR instructed the destination by the system sets the route according to the map prepared in advance and travels.
If there is related equipment at the source, destination, or along the route, the system will determine the position of the AMR and control or send signals to the related equipment. With multiple AMRs, the system directs to the best AMR.
Work out1

Safe co-operation between humans and robots

Ensuring safety is extremely important for human-robot collaboration. PLiBOT mainly handles AMRs that comply with the international safety standard ISO 3691-4 (JIS D6802:2022), which is regarded as the most important international standard for automated guided vehicle systems.
Examples of safety sensors supported by ISO 3691-4 include collision prevention with humans using safety laser scanners, speed and deceleration monitoring using safety encoders and safe motion controllers, and turning direction monitoring.
PLiBOT WRCS is characterized by its cooperation with robot manufacturers in European countries with a high level of safety awareness. In Japan, too, we are proposing methods for people and robots to work together safely.

Work out2

AMRs from different manufacturers can be linked with existing equipment and material information

The issues faced by customers differ from site to site. For this reason, problem solving requires a combination of various technologies and a customized solution, rather than a centralized response.
PLiBOT is characterized by providing customers with optimal AMRs from multiple models around the world. Integrated management can be performed by linking multiple AMRs from different manufacturers with the customer's existing equipment such as elevators and material information. By linking AMRs from different manufacturers, it is possible to respond flexibly to customer issues.
Normally, when robots from different manufacturers gather in the same place, they are not cooperating with each other, resulting in limited problem-solving and the risk of collisions. However, by using PLiBOT WRCS, multiple robots can work together even at the same site.
We also aim to integrate and manage as many diverse robots and existing equipment as possible on a single platform. Making full use of Obayashi's strong trust in the construction field and the sales network we have built up until now, we are working to collaborate with a diverse range of manufacturers with a rich international flavor.
By linking AMRs from different manufacturers with information on existing equipment and materials, and allowing humans and robots to coexist safely, it will lead to smart cities and smart factories in the future.

Work out3

Multiple AMRs and existing equipment can be collectively managed with one PLiBOT WRCS

A major feature of PLiBOT WRCS is that a single PLiBOT WRCS can collectively manage multiple AMRs and existing equipment.
PLiBOT has signed a partnership agreement with an autonomous navigation system called "ANTdriven" developed by BlueBotics of Switzerland, and has connected PLiBOT and "ANTdriven". Therefore, PLiBOT WRCS can run AMRs equipped with "ANTdriven" around the world.
AMRs equipped with "ANTdriven" are capable of reliable cooperation and high-precision driving. You can see how these robots work together to "judge like a human and treat them like a human".
Also, if there is an existing facility that the customer wants to link with, it will be possible to do so by providing an API (Application Programming Interface). Unfortunately, some of them cannot be linked, but in that case we will propose new equipment.
PLiBOT WRCS, which receives external input and instructions on the source and destination of transportation, selects the most suitable AMR from multiple manufacturers and controls it in cooperation with equipment to automatically transport materials and perform cleaning.

Work out4

Automatic driving from a fixed route

AGV, which has been the mainstream until now, has generally transported in a fixed area because it automatically travels with magnetic, optical tape, and laser guidance. In addition, construction work was required to install magnetic bars and magnetic tapes on the floor, so when changing routes, construction work had to be done again.
On the other hand, AMR, a next-generation transport robot, is a non-guided autonomous transport robot. As a result, more advanced flexible and safer operations have become possible, such as the ability to flexibly respond to changes in transportation routes and technology to detect and avoid obstacles and people. In addition, it is characterized by being able to be introduced in a short period of time compared to AGV.

Work out5

Contribute to on-site automation, labor saving, productivity improvement, and cost reduction

Currently, logistics and construction sites are facing various social issues, such as a shortage of human resources due to a decrease in the working population, responding to DX demand in corporate logistics, and urgent demands for efficiency improvement due to expanding logistics demand.
The integrated control platform PLiBOT WRCS, which is also our company name, flexibly connects the autonomous work robot "AMR" (Autonomous Mobile Robot) of multiple manufacturers and the customer's existing building equipment, and cooperates and centrally manages them. It contributes to automation, labor saving, productivity improvement, and cost reduction at the site.
Utilizing our solid technical capabilities and experience in the construction business cultivated at Obayashi Corporation, we stand by our customers who face various challenges and propose flexible solutions.
Specific solutions for each industry
Manufacturing industry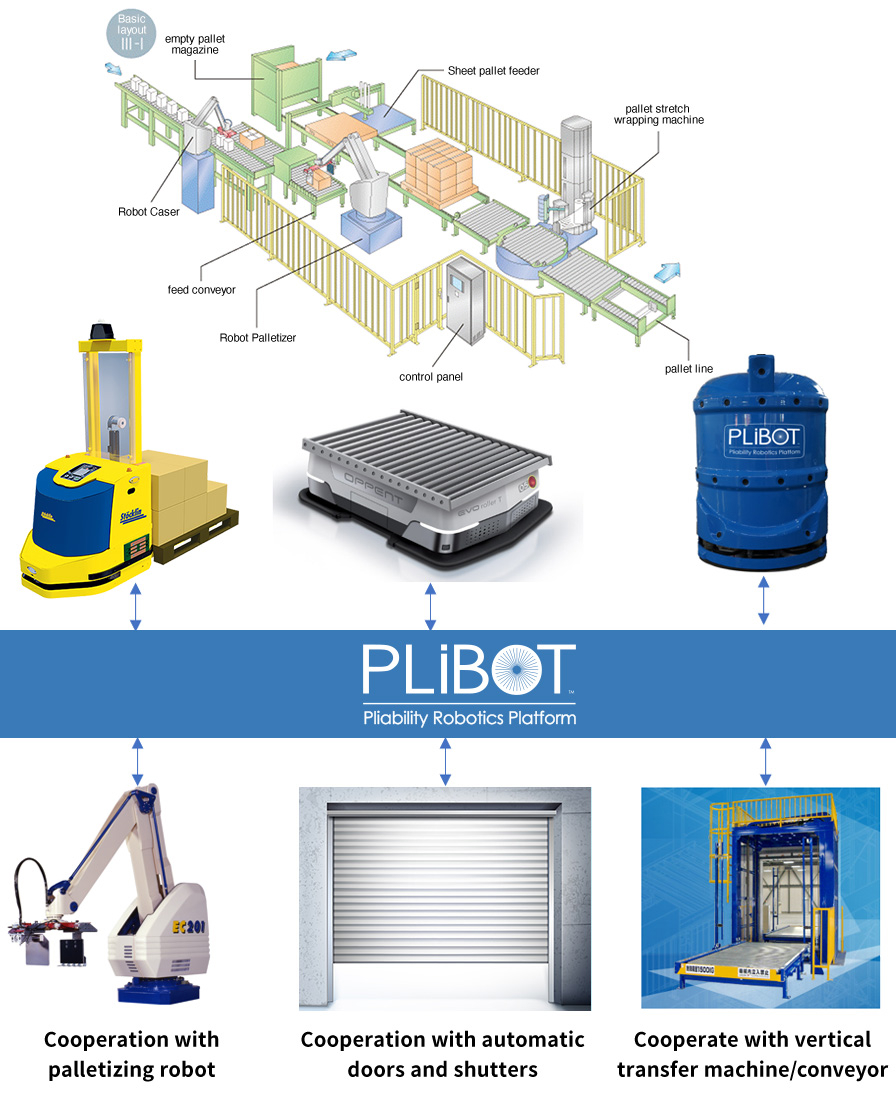 Problems

I want a system that can be linked with existing equipment such as palletizing robots, conveyor equipment, automatic shutters, and elevators.
I want to link different types of AMR such as fork type, low floor type, cleaning etc.
I want to operate so that even part-time employees can easily use it
I want to operate safely because workers pass through the transportation route

Solutions

By introducing PLiBOT WRCS, it is possible to link different types of AMR with existing equipment
Customized for easy-to-use UI
High security according to ISO3691-4
Logistics industry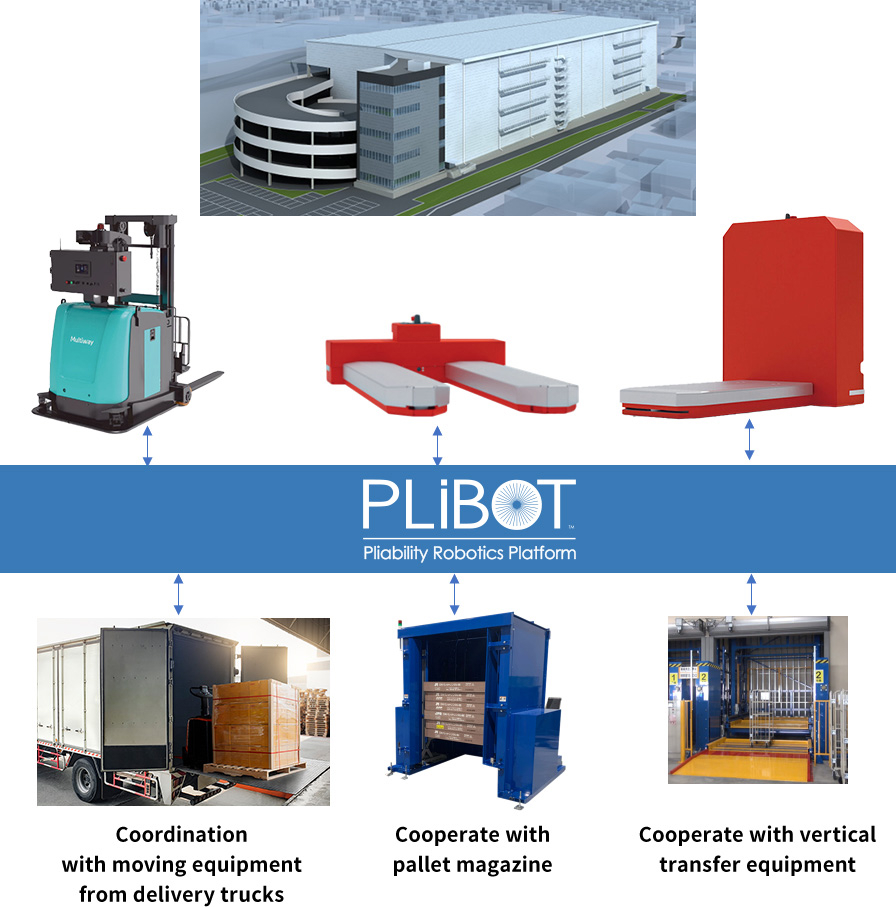 Problems

I want a system that can be linked with existing equipment such as vertical transfer equipment, transfer equipment, and conveyor equipment.
I want to link different types of AMR such as fork type and traction type
I want to operate so that even part-time employees can easily use it
I want to operate safely because workers pass through the transportation route

Solutions

By introducing PLiBOT WRCS, it is possible to link different types of AMR with existing equipment
Customized for easy-to-use UI
High security according to ISO3691-4
Medical care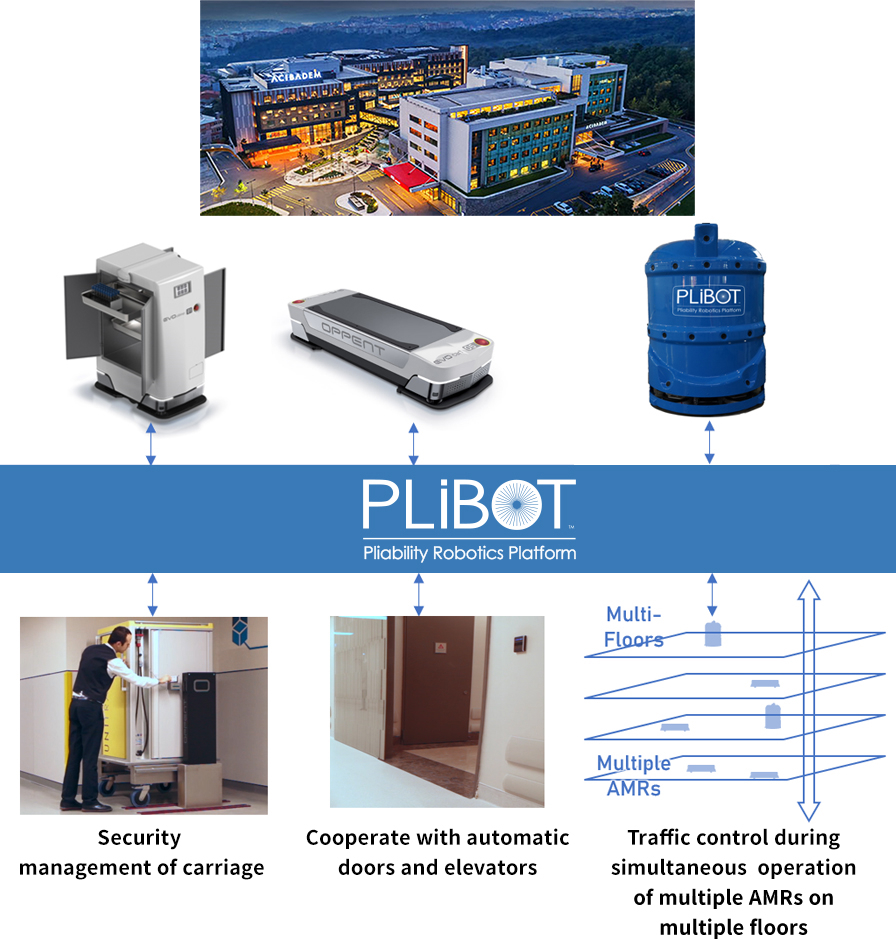 Problems

I want a system that can link with existing equipment such as elevators and automatic doors, and can control traffic when multiple AMRs are operated simultaneously on multiple floors.
I want to link different types of AMR such as cabin type, lift type, cleaning etc.
I want to operate with reliable security management
I want to operate safely because staff pass through the transportation route

Solutions

By introducing PLiBOT WRCS, it is possible to link different types of AMR with existing equipment
Link hospital-specific AMRs and trolleys
High safety performance conforming to ISO3691-4