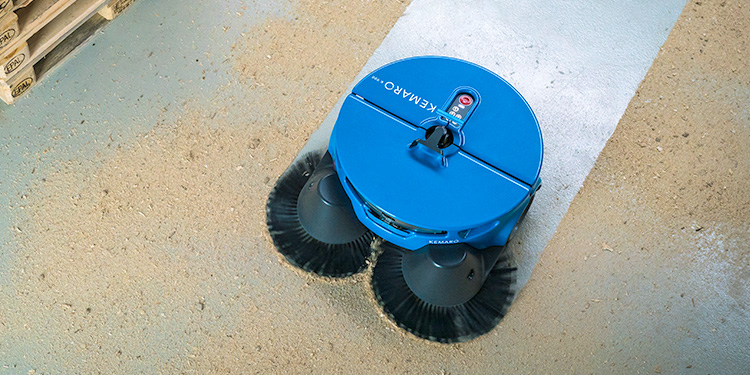 By introducing PLiBOT's solution, we will introduce useful "what we can do" for field workers and managers.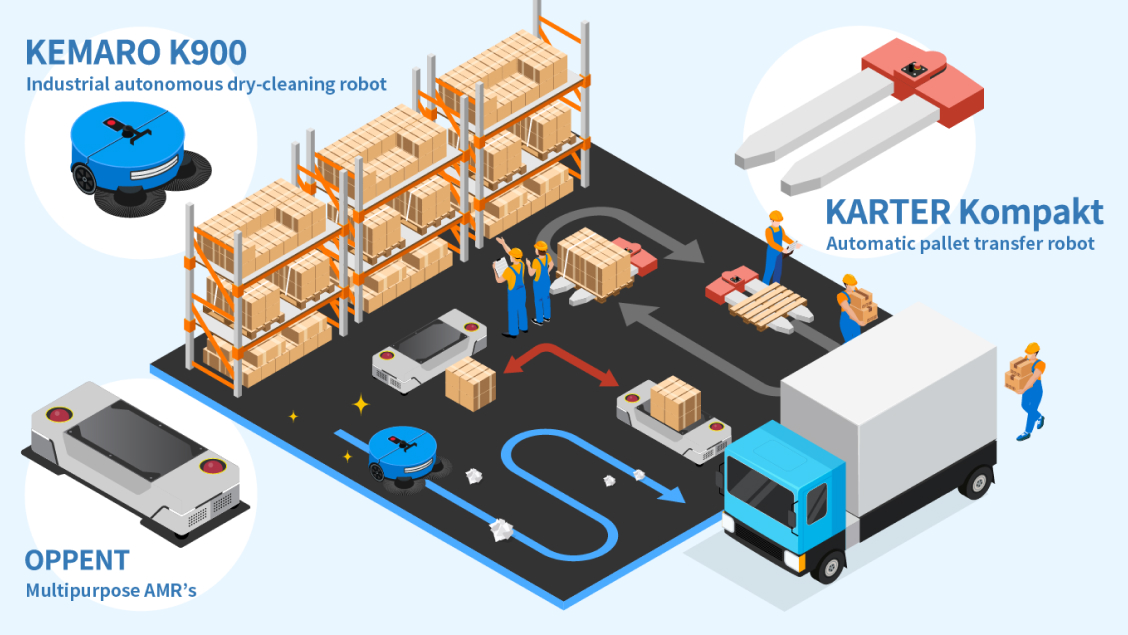 What you can do 1

Reduction of travel distance and work of field workers

With the introduction of PLiBOT, picking, transporting, and cleaning work can be entrusted to AMR, greatly reducing the travel distance and work of on-site workers.
In addition to their main work, most workers on site usually perform multiple tasks at the same time, such as moving materials and cleaning. Cooperation with AMR makes it possible to divide work and create an environment in which workers can concentrate on their original work. In addition, it also helps to improve productivity by preventing business mistakes caused by concurrently executing multiple tasks and reducing time loss such as stopping and responding to the main task.
Workers who work late at night are concerned about the physical burden. Reducing the burden on workers not only helps maintain their health, but also contributes to the creation of an environment in which staff can work for a long time, and can be expected to reduce turnover.

What you can do 2

It is possible to link and manage AMR and existing equipment without the need for DX human resources.

PLiBOT can be introduced even if there are no DX personnel familiar with systems and IT in the company.
At the time of introduction, an expert who is familiar with robots and systems conducts a careful hearing about the customer's current situation. We provide full support through consulting such as selecting the necessary robots and creating on-site systems. In addition, you can rest assured that the installation is not the end, and the maintenance after installation is also substantial.
The UI, such as the operation screen that gives instructions to the AMR on site, is designed so that anyone can operate it easily and intuitively. Therefore, it is an advantage that it is easy to adapt even for those who do not have specialized knowledge.

What you can do 3

Realization of safe collaboration between humans and multiple robots

Many of PLiBOT's products use the autonomous driving navigation system "ANTdriven", which enables reliable cooperation between AMRs and high-precision driving. Therefore, even if multiple robots operate simultaneously, there is no need to worry about accidents.
In addition, we mainly handle AMRs that comply with the international safety standard ISO 3691-4 (JIS D6802:2022), which is regarded as the most important international standard for automatic guided vehicle systems, so specifications that can detect people and cooperate is. We promise safe and secure transport and cleaning work through collaboration between humans and multiple robots.

What you can do 4

Reduction of running cost and initial cost

When introducing AMR, it is common to conduct development according to the customer's issues. In addition, in order to operate multiple AMRs at the same time, it is necessary to simultaneously introduce multiple products from the same manufacturer that can be linked. Therefore, running costs and initial costs tend to be high.
On the other hand, PLiBOT is characterized by low running and initial costs. Since products from each manufacturer can be managed in an integrated manner, there is no need to purchase multiple products from the same manufacturer at the same time. Integration with existing equipment is also possible. Initial costs for management costs and renewals (route changes, area expansions, machine upgrades) can also be reduced.
In addition, flexible introduction plans are possible from a medium- to long-term perspective according to the customer's circumstances. In addition to fully automating the initial steps, there is also the option of a phased implementation. For example, it is possible to consider according to the situation at the site, such as "This year we will introduce AMR for transportation and see how it goes, and if we are satisfied with the cost reduction effect, let's increase AMR for cleaning

What you can do 5

Linkage and continuous use with existing systems is possible

PLiBOT can be system-linked with existing products. So the system you are using now can be used as is.
In some cases, unfortunately, cooperation is difficult. At that time, robots from manufacturers with which we have a sales agency agreement can flexibly propose products that meet the challenges.

What you can do 6

Safe transport of products requiring special attention within hospitals

The "OPPENT EVO Series" of multi-purpose automated transport robots can store and transport small components and tools that require special care when transporting test tubes, drugs, etc., as well as transporting meals and linens in hospitals.

What you can do 7

AMR operation can be observed in the showroom

The first floor of the office in Katsushika Ward, Tokyo is a showroom. Here, it is possible to inspection the operation of state-of-the-art AMR and integrated management platform PLiBOT imported from all over the world. Since it is reproduced in a form close to the actual site environment where AMR is used, it is useful for imagining the actual operation state. The showroom also functions as a test center for new initiatives to meet customer demand. Please join us feel free to come.